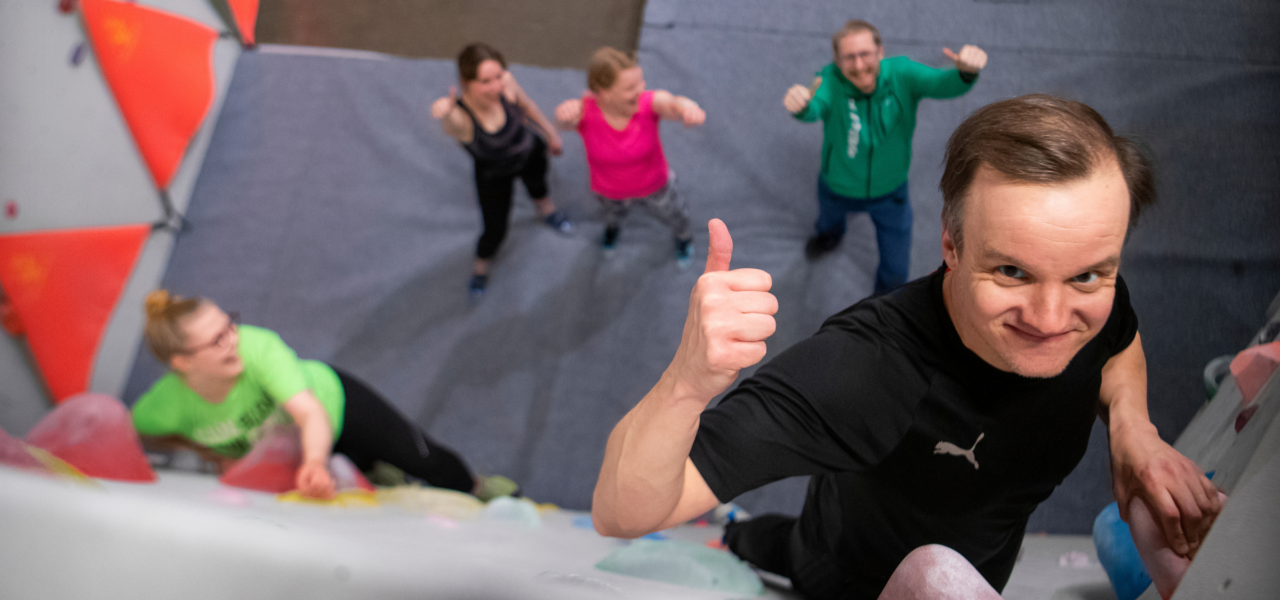 Try out climbing easily!
Visiting us first time? You don't need any reservations to come try climbing – step when customer service is open and we'll help you get started! If you become a member, you will get a key and be able to climb outside the opening hours whenever it suits you best. Welcome to the walls!
First time? Start here!
500 square feet of climbing wall and private group space
How about starting a new hobby today or trying out something totally different? Come and try out climbing! You don't need any experience, and you can rent equipment from us.
You can come and try climbing at any time without an appointment – we will tell you how to get started. If you get hungry for more, check out our classes and courses to deepen your climbing skills as well as membership to train in our premises more flexibly and freely.
The first indoor OCR course in Finland!
OCR, or obstacle course racing, is one of the fastest growing sports in the world. We have Finland's first comprehensive OCR indoor gym - and you can try it at any time you want, without an appointment!
Etsitkö viimeisen päälle monipuolista ja hauskaa treenimuotoa, eikä kuntosali oikein tunnu omalta paikalta? OCR-radalta löytyy varmasti sopiva taso kaikille harrastajille. Oli tavoitteesi sitten löytää kokonaisvaltainen treeni arkeen tai kiriä OCR-tapahtumissa parempiin tuloksiin, meiltä löytyy vastaus. Lapsillekin on oma, hauska Ninja-koulu!
Looking for a versatile, fun and intensive form of training, and the gym doesn't really feel like your place? Whether your goal is to find a holistic workout for everyday life or to push for better results in OCR events, check out our track and classes. Kids also have their own fun Ninja school!
Acroyoga brings body, mind and people together
Acrojooga is a holistic and social workout that offers a challenge not only to strength and balance but also to communication and trust. Start with a beginner's course, and join our acro family!
There are three roles in acroyoga: flyer, base and spotter. As the sport combines yoga and acrobatics, the flyer does everything off the ground, lifted by the base and supported by the spotter. You do not need your own pair when you start as we form pairs and groups during classes according to participants' skills. Training in small groups ensures personal attention for all participants.
Classical Pilates strengthens and balances
Check out the most comprehensive classical Pilates apparatus studio in town! This workout suits for trainers of all levels, whether you are rehabilitating an injury or looking for supportive activities to reach that next level in your main sport.
Classical Pilates is a great way to improve muscle balance, flexibility and posture as well as prevent sports injuries. We're training in small groups, which guarantees that each participant gets personal guidance. We also have private classes. Book a place on a class, and come try it out!
Check out our courses and classes
Become a member
As a member, you can come work out to Wasa Up every day with extended hours. We also have membership packages for families and companies! Would you like to try the membership out first? When you attend on one of the Wasa Up's courses, you get 1 month membership for free!
Membership
49,90 €/m (or 12 months 44,90 €/m)
Family Membership
starting from 68,90 €/m
Recreational events for groups and companies
Leisure groups, schools and teams
Versatile and fun activities no matter the weather! Whether it's a bachelor party, a birthday party or a school exercise class. Read more about our packages and ask for more information!
Services and events for companies
Interested in weekly shifts with regular or flexible schedule? Are you arranging recreational event for the whole company or your team? Would you like to offer benefits for employees from membership fees? Check out our packages, and let's get started!